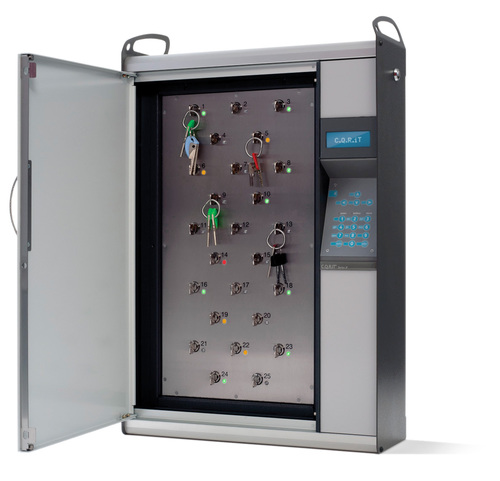 Electronic Key Cabinet Technology Solves Key Access Issues
There are many businesses that would benefit from having an electronic key cabinet. They are organizations where a number of employees must regularly have access to the many different keys. This could be everything from building maintenance to a car dealership, warehouse operations and more. These are keys that must be kept in a place that is safe, and where access to them is controlled.
Electronic Key Cabinets
This is probably the safest way to protect valuable keys in any business. These cabinets are made to only unlock with proper authentication. They are designated to only permit access to specified keys. All others remain locked in place. This means not all employees will have access to every available key. An employee authorized to show specific cars, will only be able to obtain those keys. A building manager won't have to worry about an employee getting keys they're unauthorized to have, and going into areas where they're not permitted.
Tracking
Electronic key cabinets can provide valuable tracking information. They can be designed to permit access using a fingerprint, PINS prox card and more. A company will know who has a specific key, and for how long they've been in possession of it. When an employee leaves a company, their access privileges can be automatically revoked on a specified day.
Computer Network
One of the most impressive features of an electronic key cabinet, is how is can be controlled with a computer network. It can provide real time information on the status of each key stored in the cabinet. If someone tries to illegally gain access to the cabinet, an alarm will be generated. Managers can be notified immediately. This provides a high level of security. Using the computer network, the cabinets can even be managed off site.
Cost Effective
Using an electronic key cabinet will enable a company to avoid unnecessary expenses. It will reduce the incidents of lost keys. The cabinet provides a record of the person who had the key last. Locks on a key storage cabinet will no longer have to be changed. Access to the keys can easily be reprogrammed. These security features greatly decrease the chances of thieves getting to important company keys. It is a good investment for a small business, as well as a large company.
If you would like to learn more about how an electronic key cabinet could benefit your business, we can help. Contact us! today and learn more.