26 Jun

How to develop key control systems for your business or property
Security is one of the most important aspects you can invest in for your property or business. A Key control system not only regulates access to high-risk keys, but allows you to track exactly who is using them in real time, as well as limiting acquisition. Here, we break down the process of developing a key control system for your business, why your company may or may not need it, and how to manage its performance.
What is a key control system?
A key control system prohibits certain parties from accessing keys, and will only release them to those that are authorised. Thanks to modern technology, these key control systems are now equipped with advanced security options, which include:
Real-time tracking of keys, including notifications.
Biometric access, such as facial recognition.
User PIN code access.
These systems are incredibly beneficial in businesses that hold or sell high-value items, such as designer goods, medical equipment or pharmaceutical drugs, jewellery or vehicles. Furthermore, a key control system ensures that confidential documents – such as patient information – doesn't fall into the wrong hands.
How do I develop a key control system?
Developing a key control system isn't too complex a task, however, it requires a fair amount of research into the risks of your own business. Furthermore, you'll need to reflect on how a system is performing to see what needs changing.
1. Evaluate your current risk
Before implementing a key control system into your business operations, you first need to assess whether your business or property would actually benefit. The best way to determine this is to evaluate your current level of risk. Indicators include:
Risky assets
As previously mentioned, businesses and properties harbouring high-risk assets would benefit from a control system as you can be sure that keys are only released to those who are authorised to use them. This is particularly useful for car dealerships, as luxury keys can be kept in a special cabinet, only to be released on purchase or test drive.
A large number of keys
For companies with a large number of keys on hand, a control system may be needed to reduce the risk of loss and tracking who has them.
High customer turnover
If you've got a business where a high number of people are entering and exiting the premises, there may be risk of theft as it often isn't possible to track and follow up on everyone who is in the building.
Protecting your business starts at home if the key holder chooses to take them off-site. Given almost 230,000 Australian households experienced at least one break-in attempt, according to the Australian Bureau of Statistics, a small-scale security cabinet may be appropriate at home too.
2. Choose your system
After evaluating your risk, you need to determine which type of key control system is best suited to the needs of your premises. For high-security purposes, businesses need not look further than the C.Q.R.iT eXtreme for their key control system. This cabinet incorporates a range of digitally-driven solutions to keep keys secure, including encrypted data transmission between cabinets, and a three point locking system to hide mechanisms and prevent break-ins.
3. Implement the system into your security plan
Once you've selected the key control system best suited to your business, you'll need to spend time implementing it into your daily operational processes. This isn't as simple as installation. For a key control system to be truly effective, you need to ensure it works alongside your existing security measures – not as a full replacement. Installing a new security feature is a great opportunity to sit down with your team and review your current measures – what's working, and what can be improved. Ensure all staff are on the same page with keys, understanding of any penalties that come from late returns or misconduct.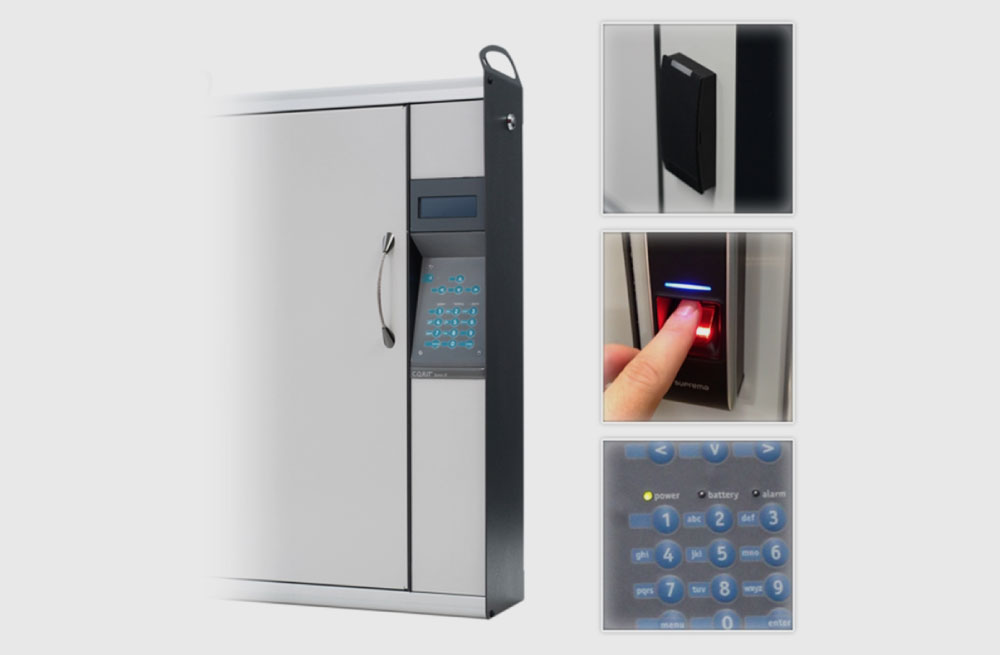 4. Re-evaluate the system
Evaluation is important with any new system or process. Without this reflection, it's hard to see whether the change is actually making any difference to your business. For this reason, it's vital to have pre-established metrics from which to measure  the system's success, such as:
Reduced loss of keys.
Faster key changeover.
Whether staff have adapted to the system quickly or not.
If you find issues with your current system, such as not having the personnel needed for multiple-party sign outs (where two people are needed to release a key), it may pay to rethink your system and try a new tactic. The beauty of CIC Technology's key control systems is that they work alongside you to your needs and specifications. This means that you can customise key release to be as elementary or complex as you'd like, with each option still providing a high level of security.
For more information on CIC Technology's smart key control systems and management solutions, reach out to the team today.